Our Inn is located on the south-western outskirts of Graz. If you go on motorway, you can take either the motorway junction "Graz West" or the motorway exit Seiersberg (~ 1.2 km = 0,75 mi).
Thanks to our convenient location you can use public transport to visit the Old Town of Graz, which is one of most beautiful medieval towns in Central Europe and a World Cultural Heritage site.
Our central location means that a great number of various leisure-time activities are within easy reach: long picturesque walking tours, jogging routes through the woods, a great open-air pool, tennis courts and many more. From here, you can go on the charming Mur cycle route or to take a trip to famous Styrian wine routes, numerous thermal baths or places of interest located in the vicinity.
---
Distances in and around Graz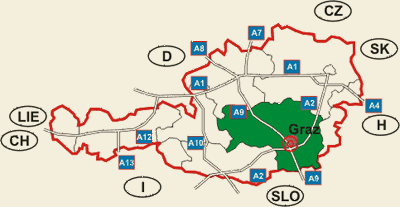 Train Station Strassgang 600 m

Main Train Station Graz 6.2 km

Town centre 6 km

Airport Graz Thalerhof 8 km

Copacabana 8.5 km (recreation centre with a great bathing lake)

SFZ (Paintball) 7,5km

Messe Graz (fairs and exhibitions) 6,1km

Stadthalle (event hall) 6,1km

UPC Arena (stadium) 6,2km

Tennis Pokorny 150m

Strassganger Freibad 150m (open-air pool)

Golf Murhof in Puntigam 4 km, Golf bei Thal 10km

Murradweg 4 km (Mur cycle route)/li>

Fitnesscenter Puntigam 2.5km (fitness centre)
Current trips and excursions
Castles and palaces

Feldbach / Kornberg
Edeisbach
Riegersburg
Burgau
St. Johann / Herberstein
Stubenberg
Pöllau

Thermae and baths

Bad Radkersburg
Bad Gleichenberg
Therme Loipersdorf
Bad Blumau
Bad Waltersdorf

Hilly country

Weiz
Pöllauberg
Naturpark Pöllau
Teichalm / Sommeralm

South Styria

Seggauberg
Wagna
Gamlitz
Frauenberg
Kitzeck

West Styria

Bärnbach
Piberstein
Piber
Stainz
Deutschlandsberg
Schwanberg

South East Styria

Ratschendorf
Klöch
St. Anna / Aigen

Surroundings from Graz

Bärenschützklamm
Semriach
Peggau
Stübing
Stift Rein
Jundendorf Straßengel
Jakobuskirche / Thal
Schwarzl SFZ
Copacabana
Schöckl / St. Radegund