With 17 rooms, our inn has a capacity for 30 people.
10 single rooms, 3 double room, 1 twin room (separate beds), 1 triple room, 2 four bed rooms. All single rooms have three quarter beds (140x200). For the second person, there is an extra charge of € 15.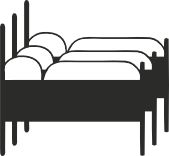 Quad and trible rooms
General information
Please read this information before booking
We only have smoke-free rooms. We thank you for your understanding in this matter.
Our inn gives a warm welcome to all guests – groups, bicyclists, motorcyclists – and is gay friendly.
All rooms are located on the first floor and equipped with shower, WC, telephone, TV, Sat TV.
Hair dryers are available at the reception.
Parking: for our guests, we offer sufficient parking spaces for FREE
Internet: FREE Wi-Fi Hotspot everywhere in the inn.
Pets: for FREE (no cats please). However, if after check-out the room is not in a proper condition, we will charge extra for cleaning till € 25,--
Please be extra carefully with big, long hair dog! THANK YOU
Breakfast–buffet: Monday to Saturday from 6am to 9.30 am.
Newspapers: for FREE in the dining area.
The Reception
is occupied from Monday to Saturday between 6 am and 11am and 3pm to 9.30pm. For arrivals outside reception hours, please contact us directly to receive your check-in information.
Check-in:
Monday to Saturday from 3pm to 9.30pm. For check-in on Sunday and Public Holidays, as well as outside check-in hours please contact us directly to receive your check-in information (+43316281812).
Check-out:
daily from 6am to 11am. Rooms are to be vacated by 11am on the day of check-out. If the room is not vacated on time, we reserve the right to charge an extra night.
our room our room our room double-bedded room
Acceptable methods of payment
Cash or debit card (Maestro), company cheque – payment on account (partial payment) for more than 3 overnight stays with a confirmation of cost coverage.
Cancellation Terms and Conditions
Your credit card information is used only to secure your reservation. Your credit card is not charged at reservation. We reserve the right to authorise the credit card prior to check-in. Your credit card can also be used to charge a cancellation fee.
No cancellation fee is charged if you cancel your reservation 4 or more days prior to the date of arrival. In other case, 100% of the total price of the reservation will be charged.
Please note:
We do not offer any assistance for reservations, cancellations and changes that are made via booking portals or travel agencies like booking.com and HRS. In this case, it is also not possible to make changes to your reservation or to cancel it on our homepage.